Food Truck Blog: Just Bloggin Along
The location of your Food Truck is everything!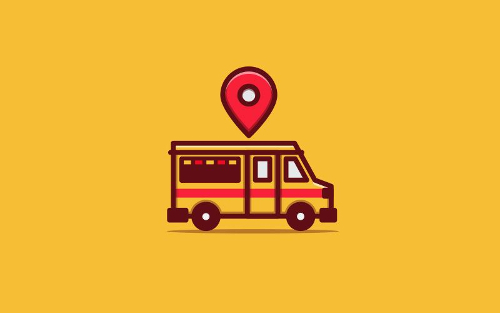 Location is everything!
You hear it all the time in the Real Estate business, 'Location is everything!' Location is everything in life too. You need to know the location of your keys, your wallet, your phone. You certainly need to know the location of your car and where you work. But most importantly you need to know the location of your next meal, without it, you won't need to know the location of all the other things. The location of your Food Truck is no exception!
While just hopping into your Food Truck and driving to your usual spot may work for some; what happens when you're running late and someone else is there or some new guy gets there early and takes your spot? Where do you go? What if you're the new guy and need to find a place to park your Food Truck?
Choosing a location requires a little research and a lot of trial and error. Here are some ideas to checkout aside from Food Truck Parks and places that Food Trucks usually are.


1. Office buildings. I'm not talking about those that are easily accessible. I'm talking about the out-of-the-way office buildings and parks. You would be surprised by the amount of employees that would rather eat from your Food Truck than spending valuable lunchtime traveling!


2. Lesser know parks. Some cities have a lot of smaller parks that seem out of the way and not likely to have a lot of people frequent them. With a little planning you can line up a few of them and make a run and hit them all in a fair amount of time. If you keep at it, people will come to expect you and be waiting when you arrive!


3. Shopping centers. Ones that are away from Food Truck Parks and urban areas are good places to checkout and shouldn't be dismissed. Some of the out-of-the-way malls are excellent choices as long as you're the only Food Truck there. Then the business can be brisk!


Most places you will need to get permission to park and sell from your Food Truck and that's just part of the planning and research.
Of course there are places to avoid also. There are the obvious ones, places where there are few people, places that are just too far to justify going there. There are a few not so obvious ones to avoid.


1. Food Truck Parks. Some parks are just too crowded with too many Food Trucks for the amount of people that visit them and you will just be sitting around thinking of new ways to get customers instead of serving them. Check them out beforehand


2. Malls While smaller out-of-the-way malls may let you park there and even let you park close to the entrance the same isn't so for the larger malls. They tend to have food courts with a wide and varied selection to choose from. So even if they let you park your Food Truck there and close to the entrance, the traffic is sure to be light!


3. Places other Food Trucks Park In some cities Food Trucks have to park in designated areas. These areas tend to get congested and have the same effect as over-crowded Food Truck Parks, where you sit and contemplate life's meaning instead of selling food. Find one of the other areas mentioned above instead


Location is one of the most important things in life! So locate your keys, locate your Food truck and Locate your special spot!
Tweet
Comments
---
Steve on Friday, 11 June, 2021 Wrote:
Great Article! Whomever wrote it knows what he's taking about!
Recent Posts

Location! Location! Location!

Your Food Truck marketing strategy

Summer is almost here...Time to Shine!

Needs and Benefits of a Food Truck Commissary

Food Truck Fusion: An eclectic mix
Recent Comments
posted by

Steve

on Friday, 11 June, 2021
in Food Truck Fusion: An eclectic mix
Archives