Food Truck Blog: Just Bloggin Along
Your Food Truck marketing strategy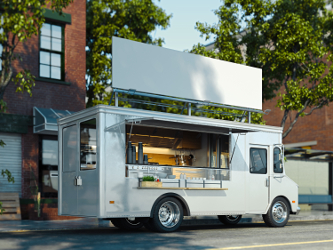 A Food Truck business can be one of the most exciting ventures ever, provided good structures are in place. Commonly viewed as a better option for fast food, a Food Truck as a form of entrepreneurial venture cannot be over emphasized!
Why do I say this? Well, I say this on the basis of the trends currently sweeping across the country. Youths for instance, based on their daily commitments, have no time to get things done and have something to put in their stomachs, isn't that right? Now think of this, What can you make of the fact that in presence of all such market opportunity amongst the youngsters you haven't gone online as far as marketing is concerned? Does that open your eyes a little bit?
I won't tire you with a lot of queries since this is not a Q/A session but believe me, when you are done pouring over this article you will have been rocked to the core the need to make use of digital space to aptly promote your Food Truck business. Read On...
In the era of cloud chasers such as this, its imperative to position your brand of business in a way that people or potential buyers from far and wide can take note of your presence. Unlike brick and mortar restaurant businesses, the Food Truck business is one which sucks considerably in terms of customer retention. What does this mean for anyone already on the go (in Food Truck business )?
Customers, in relation to brick and mortar restaurant business are the ones to find their eatery joints themselves. However, this will fall flat for a food truck business because for it to optimally serve its purpose its supposed to be the other way around in terms of customers finding their way to services offered. This therefore summaries the avid need to frequently make your presence known to your potential customers unlike the permanent brick and mortar restaurant.
Ways to achieve a cutting edge in Food Truck business
Going the extra mile to advertise your business could be exactly what you need to achieve sinfully unrealistic turnovers. But which effective strategies will you employ to go a notch higher in living this reality? You have to be smart in both plan and execution. With this in store rest assured you will achieve amazing and blissful success rates in your new found Food Truck business.
Depending on what is at your disposal, you can employ every clever move to make sure you achieve your target without worrying about the exorbitant price implications for advertisement. Minimum input, maximum output isn't that what business is all about? Now, whether it be the use of a suitable tag-lines, eye-catching graphics or a funny jingle, keep your business relevant at all costs to boost its image in the customers' eyes.
Concentrate on making your brand stand out
Many businesses today have carved a niche out of their established brands and Food Truck businesses should not be an exception. For this type of a kitchen in motion business it is possible to make a name for yourself on the first encounter with your customer and he or she will be sure-fire rubber-stamped in your book of loyal customers.
Also, a brand will easily facilitate your services to be advertised. Yes advertised by the customers amongst themselves and you will have massively cut down needful advertisement expenses. Highly recommended Food Truck brands are as follows:


- Graphics: this is the most popular and practiced by a lot of Food Trucks. Eye-catching graphics will easily play a bigger role in attracting customers to buy from you. By so doing you will strategically be able to boost your business image to the public and I guess this is a form of advertisement right? Sure enough and certainly it sounds a great idea.


- Logo: select a logo that is easily interpretable in terms of meaning and showcases purpose of the business.


- Copy: this is important and significant for designing a Food truck blog for your business. Thus implying the needful consideration to employ it so as to get this step outright conspicuous! When all is said and done, this will also promote the theme of the business, promote the mood and improve the atmosphere. This, remember continually tackles the branding strategy.


- Font: be sure to come up with a font that is likable and legible in the same respect to boost the mood of your brand to excellent heights!


Make use of social media
<
This is the most efficient if not effective way that you may use to make your business known to the community around you. Being a platform of Communication too, excellent usability of a Food Truck blog if you have one, will save you a lot of stress from communicating events and promotions to your customers. Great to your relief, you will get yourself sorted out when periodical updates are posted or published on your business blog.
Facebook, Instagram, Twitter and all the other social websites are a great way to get your name out their. Both by having a account and by advertising on the sites.
Get yourself Website
You don't have one right? Well it may want to get a website set up for your business for hitch free operations. From a website, your customers will be kept abreast of your schedules and where your at making it easier for them to track you spot on!
Link with other Food Trucks
Ever thought of this before? If not then, you are lucky to stumble on this content piece! Teaming up with other food trucks as trivial it may seem, might be exactly what you have been missing to have your business fortunes change for the better. Why? I can see you perplexed. But needless to say, this is applicable where an existing large scale block of parties come up at a distinguished place to sell a variety of cuisine to their esteemed customers.
As much as there is a competition between you and other Food Trucks, that does not mean that every type of business deals in similar products. With an eclectic and uniquely thought through range food items, this symbiotic strategy acts a supplement rather than the competition that it may seem.
Attend events near you
Sometimes its of significant importance to avail yourself for social events where gatherings are massive. Once you seize such a moment, it will be easy for you to showcase your skills and what you are capable accomplishing giving you a great opportunity of getting your brand noticed.
In many ways you will make a name for yourself and this could make for future invites and receiving offers for your services.
Sell branded products
Merchandising can be one of the best strategies to employ once you established a stunning fan Base. Branded items, however small they may be, play a bigger part in promoting your brand to your fans. A strategy as this goes along way to help your merchandise and brand become known far and wide. In case you deal in a certain product, you can decide to have it branded on a number of assortment of goods and hand out to your customers for free.
Financial implications notwithstanding, this strategy when employed and implemented to the last dot of instructions, amazing results will surely be realizable beyond any reasonable doubt.
Have an eye for unique and strategic points
As important it is to other types of businesses so is it with Food Trucks. Succeeding in venture is primarily determined by the community adjacent to it. To this end therefore a Food Truck operated business will have to expressly consider the things that are of benefit to the community.
Making yourself known to the community plays an important part in perfecting this strategy. Getting handy information about the events the community is hosting for instance makes you strategically plan to have a specific place where your truck with get the much needed exposure by acquiring the necessary certifications from relevant authorities.
With this in place, make effort to transverse all over the place to meet a variety of customers and get to note the demographics and all that they are interested in. This will go along way to make any needful adjustments to your products in turn satisfying their interests.
Proper use of this strategy will help you create a niche for yourself and with all the knowledge of the demography at your finger tips, you easily organize your tools properly any single day there is an event for "people to celebrate your food".
The bottom line
The truth of the matter is that people are in love with this idea of a moving restaurant, but as it pervades through various localities its important to recognize the need to market this idea. If you have one, the responsibility lies entirely with you to see it succeed by tirelessly considering the practicality of all the strategies mentioned in this article.
Good luck!
Tweet
Comments
---
Recent Posts

Location! Location! Location!

Your Food Truck marketing strategy

Summer is almost here...Time to Shine!

Needs and Benefits of a Food Truck Commissary

Food Truck Fusion: An eclectic mix
Recent Comments
posted by

Steve

on Friday, 11 June, 2021
in Food Truck Fusion: An eclectic mix
Archives