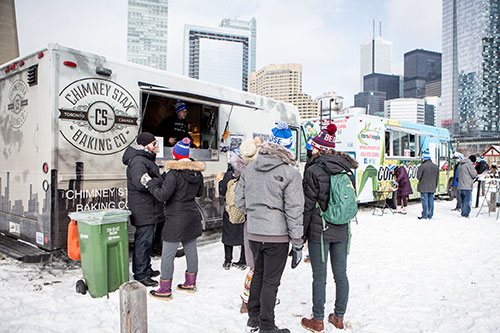 If you're successful enough during the warmer months you may be able to stow the truck for a few months. If you have family or friends in a warmer city you may be able to stay with them while you operate your truck there during the winter. But what if you can't afford to close and you don't have any other place to go? There are options open to you, some require planning during the warm months, others you can do right now. We will explore some of them below:
1. Look into Catering.
Catering can be a good thing to have as part of your business model year round but most definitely in the winter. Switching to Catering when it gets cold has it's upsides. You and your employees are only exposed to frigid temperatures long enough to move the food from the truck to the venue and you can set the pace and not have to rush. Sponsoring a free sample day for companies and office buildings during the summer can often bring business during the winter. I'm not saying you have to give away the house but small sample portions for a short time may be all you need to attract Catering prospects.
2. Breweries and other venues.
Teaming up with local Breweries and scheduling events with them is also a good general practice year round. In the winter it can be what makes or breaks the year. If you have a loyal following with the Brew Crew make sure you are there as much as your are able. Other venues both indoor and outdoor are another thing you can consider. Scheduling time to attend different events can be tricky specially when you are also catering. You have to be able juggle if you want to make it through the winter.
3. Consider switching it up!
If you serve cold salads in the summer consider making the same thing in a casserole or soup during the winter. Try heating up your signature cold sandwich; It'll probably be a hit! If you advertise juicy burgers and cold drinks in the summer then advertise warm burgers and hot drinks in the winter. Switching it up can also be a moral booster during those long dark days. In this case change can be a good thing!
Making it through the winter can be tough but with persistence, perseverance and determination you should be able to slide right through!
Tweet