Food Truck Blog: Just Bloggin Along
Needs and Benefits of a Food Truck Commissary for Street Food Entrepreneurs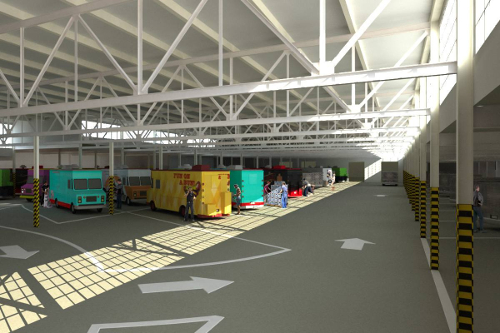 So your food truck business is finally up and running. The truck is all spruced up. The fittings, furnishings and plumbing are working like clockwork and you have scouted the best street food locations in your city. Business is brisk. Seems you have nothing in the world to worry about. Except, that is, your food truck commissary. Food truck what? No. Don't worry. I am not asking you to consider hiring some fancy suited notary and beef up your expense account.
Think of your food truck commissary as the home base. The place where your food truck is to be found when you are not doling out street food to your devoted patrons.
Why Do you Need a Food Truck Commissary?
Here are the main reasons why you need to have a dedicated food truck commissary:


A food commissary offers room and facilities to make and prepare your food


It is a designated parking spot for your food truck


Ready hook up to power for charging your electric appliances and truck batteries


Perform refills for essential consumables like water and propane cooking gas


Grey water disposal point


Cold storage space for food items


Functions as the mailing address for inventory purposes


What are the Benefits of Having a Food Truck Commissary?
Most startup street food entrepreneurs opt to run their food truck business on an ad hoc basis, operating from their home kitchens and within the truck itself. However, having a dedicated food truck commissary is essential, especially if you operate more than one truck. Here is a look at some of the benefits of establishing such a central point of operation.

1. Compliance with Local Health Codes


In some cities, you have no choice but to set up a recognized food truck commissary if you are to operate a street food business. Cities like Boston and Los Angeles have very strict regulations requiring street food sellers to have a licensed and dedicated central point of operation. You may have to undergo complete checks and licensing procedures similar to what an actual brick and mortar food establishment is subjected to.


2. Space and Efficiency in Food Preparation


Preparing your food at the back of your food truck may work well enough in the early days of your street food venture but the space will soon become inadequate as business picks up. Having a dedicated commissary offers you space and room for innovative food making and preparation. In addition, preparing food from a well equipped and spacious commissary is more hygienic, efficient and environmentally-friendly.


3. Ready Access to Large Equipment and Supplies


By having a central food truck commissary, you are guaranteed one central point where you can access equipment and supplies. This frees up essential room in your truck for carrying out the actual business of dispensing food. But the rest of the supplies and equipment you don't need for purposes of serving up the food will be allocated at the commissary. Think of your ovens, refrigerators, special utensils as well as all manner of food supplies and ingredients.


4. Networking Opportunities


Today there are thriving street food communities in major urban centers around the world. Whether you opt to park next to your fellow street foodies or cook and prepare food alongside them, a communal commissary offers you the perfect opportunity to network, learn new tricks and keep up to date with the latest developments in this thriving industry.

Whether you are an up and coming street food entrepreneur or you are an old hand in the trade, there is no overemphasizing the importance and benefits of having a dedicated food truck commissary. It may cost you a bit to set up this central base of operations but a look at the considerable benefits of such an establishment as outlined above will more than justify the expense.
Tweet
Comments
---
Recent Posts

Location! Location! Location!

Your Food Truck marketing strategy

Summer is almost here...Time to Shine!

Needs and Benefits of a Food Truck Commissary

Food Truck Fusion: An eclectic mix
Recent Comments
posted by

Steve

on Friday, 11 June, 2021
in Food Truck Fusion: An eclectic mix
Archives