1 Food Trucks in glade spring, virginia
Stomach Growling? Craving something tasty to eat in glade spring, virginia? There's bound to be something to fill your gut and satisfy your taste buds near you! food trucks are a great way to make your day brighter or top off a nice evening! include one in your plans, there's sure to be a food truck near you!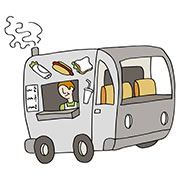 We are a husband and wife team operating a food vending trailer. We serve Big Dawgs (1/4 lb Nathans Hot Dog), Gator Kabobs,  funnel cakes, deep fried Oreos, deep fried strawberry shortcake, etc. Our offerings are extensive and we can tailor our menu ...
---
Recommended for you