1 Food Trucks in york, maine
Stomach Growling? Craving something tasty to eat in york, maine? There's bound to be something to fill your gut and satisfy your taste buds near you! food trucks are a great way to make your day brighter or top off a nice evening! include one in your plans, there's sure to be a food truck near you!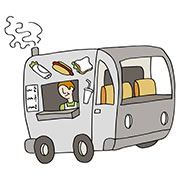 Burritos like you have never had................. BBQ Pulled Pork, General TSO's, The Hawaiian, The Philly and of course traditionals like pork carnita nd chiscken verde.
---
Recommended for you