1 Food Trucks in indianola, iowa
Stomach Growling? Craving something tasty to eat in indianola, iowa? There's bound to be something to fill your gut and satisfy your taste buds near you! food trucks are a great way to make your day brighter or top off a nice evening! include one in your plans, there's sure to be a food truck near you!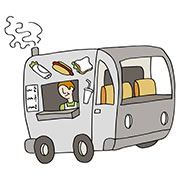 The Outside Scoop
Indianola, IA
outside-scoop.com

The Outside Scoop is a full service food truck that provides high quality desserts, fast service and a pleasant mobile dining experience for people throughout central Iowa. We are known for our homemade ice cream and sundaes. Keep an eye out all over...
---
Recommended for you