1 Food Trucks in pelham, alabama
Stomach Growling? Craving something tasty to eat in pelham, alabama? There's bound to be something to fill your gut and satisfy your taste buds near you! food trucks are a great way to make your day brighter or top off a nice evening! include one in your plans, there's sure to be a food truck near you!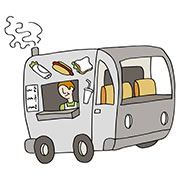 Food Truck and also offer cathering services as well. Our food is based on authentic mexican food all made from scratch by our chef Carlos. Freshly made!
---
Recommended for you