Food Truck Events By State
events near me
find events in your area featuring food trucks or including food trucks in their line-up! food truck events are a great way to make your day brighter or top off a nice evening! include one in your plans, there's sure to be a food truck event near you!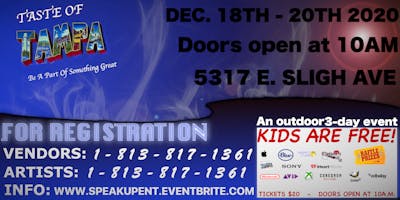 Taste Of Tampa Trade Show (December)
WHERE: Tampa, FL
Start: 12/18/2020 10:00:00 AM
End: 12/18/2020 10:00:00 PM
Festivities are now 247 on5317 E Sligh Avenue TAMPA FLCome by and represent your job and its career path with the family and see the lights hear the music taste the food and feel the loveThis is event is family friendly and we ask that allchildren ar...
---
Recommended for you